Poweshiek County was founded in 1848 and is now home to 18,662 residents. Located in east-central Iowa, its county seat is Montezuma.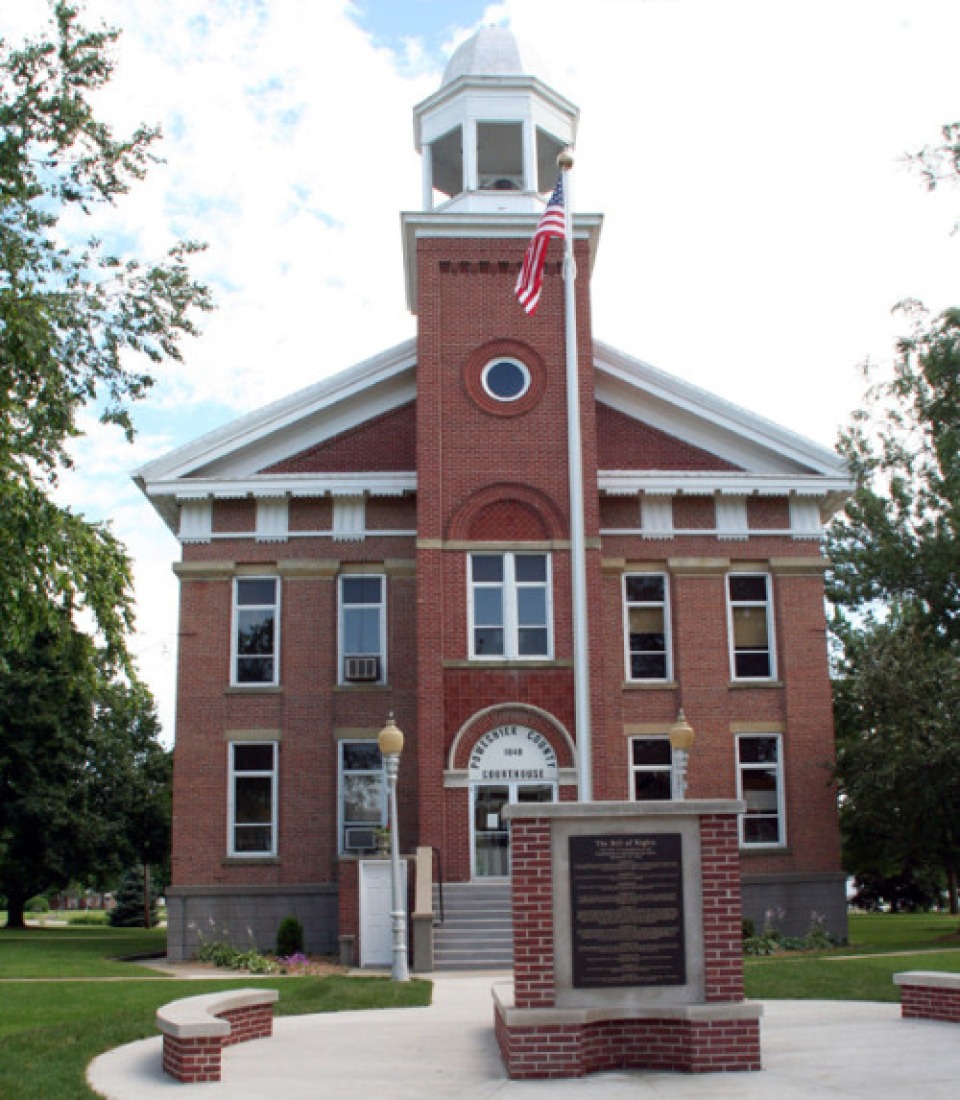 Namesake
Poweshiek County was named in honor of Chief Poweshiek, a prominent leader of the Fox Tribe, the name being interpreted in treaties as meaning the Roused Bear or the Shedding Bear.
Courthouse
The first courthouse was erected in 1850 on the northeast corner of the square in Montezuma, and the term of court was in 1851. The present courthouse, a larger and better building, was built in the years 1856-1859. It is the second permanent courthouse built in the State of Iowa. In December 1933 work was done to raise the courthouse and this was completed by August 1934. An addition was added to the courthouse from 1982-1983.
The courthouse is located at 302 East Main Montezuma, Iowa 50171 and is open Monday to Friday 8:00 a.m. to 4:00 p.m.
History
Poweshiek County was originally a part of the county of Keokuk from 1837 to 1840 and was subsequently attached at different times to both Iowa and Mahaska counties. The county was formally organized on April 3, 1848, the date on which the first election was conducted. David Edmundson, John White and John Rose, residents of the counties of Jasper, Mahaska, and Polk, respectively, were appointed commissioners for the purpose of locating a site for the county seat and providing for its establishment.
The first settler after the Native Americans departed was Richard B. Ogden who came from Illinois. Mr. Ogden settled in the south part of the county in location of Forest Home. Settlement of the county moved northward from that place.
Montezuma, the county seat, was laid out in June 1848, and early history says in the early settling of the county it was thought that the northern portion of the county would not be occupied; therefore, there was no difficulty in locating the county seat in Jackson Township. Montezuma is almost centrally located in the southern tier of townships.
The county was originally divided into three townships until 1852. The three townships were Sugar Creek, Jackson, and Bear Creek. Currently Poweshiek County has sixteen townships.
There are currently three large lakes that have been built within Poweshiek County boundaries: Holiday Lake in Madison Township, Lake Ponderosa in Union Township and Diamond Lake in Jackson Township.
Communities
Poweshiek County is home to eight communities. We've compiled city information on our Communities page.
County Government
The County is administered by a three-member Board of Supervisors who are elected for four-year terms. Other elected officials include the Attorney, Auditor, Recorder, Sheriff, and Treasurer.